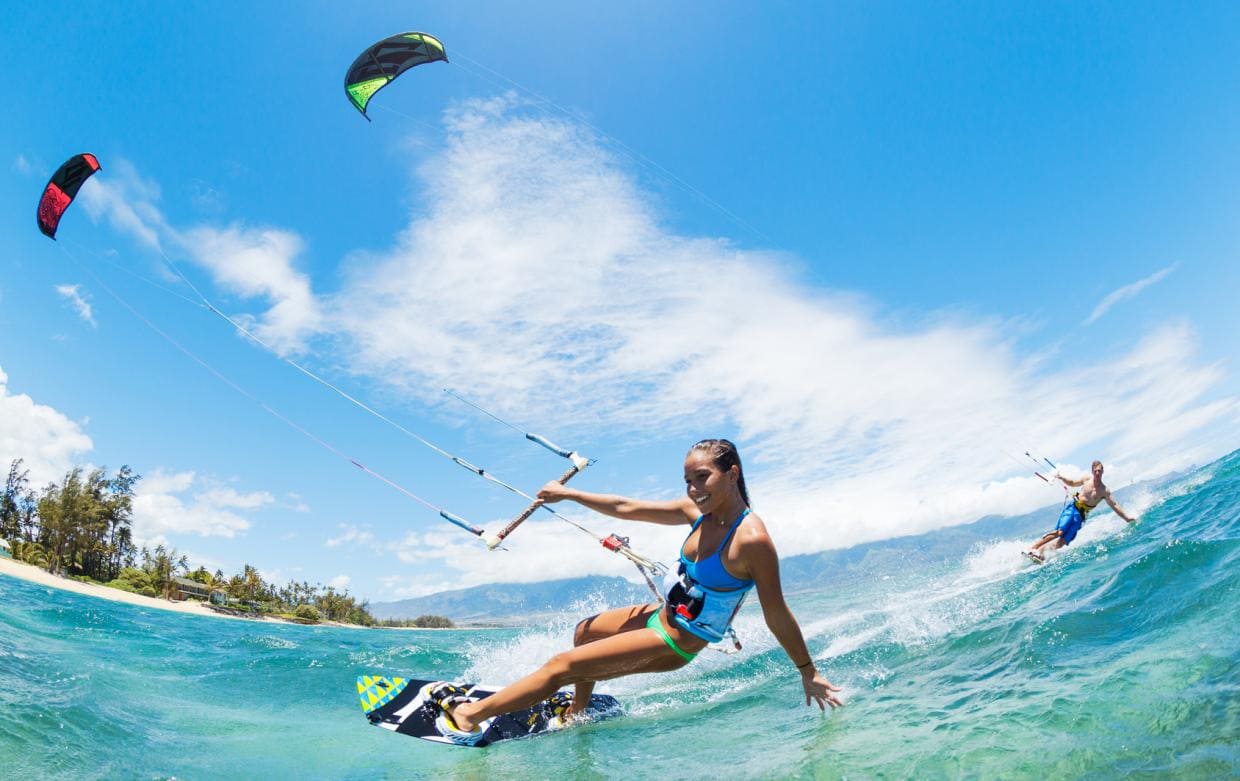 Kiting in Montenegro - Windy experience
Depending on the surface it is distinguished as snowkiting, it is more preferable to practice it in the winter at the ski resorts of Durmitor, Žabljak.
In summer kitesurfing is more common in Montenegro. It is held on the emerald surface of the Adriatic in different parts of the country. But the best place for kitesurfing in Montenegro is the Great Beach. Well-developed and more mundane all-season type of kiting with the prefix "land". His followers love to cut across the endless grassy expanses with the wind to race.
Kitesurfing in Montenegro: flying through the waves (and not only) with the wind in harness
This lesson is for those who want to feel like the master of the elements, rushing through the waves to distill with the wind.
It is subject to anyone who wants a different gender, age and build. For this you should have the appropriate equipment (you can buy or rent it): kite, trapeze, board, vest and helmet, as well as knowledge and skills.
To get the minimum necessary skills, a lot of time is not required. Our club conducts kitesurfing training according to a progressive program that allows you to master all the details of kitesurfing in the best way and in a short time.
The basic course lasts about 10 hours. It consists of a theoretical part, including the study of the fundamentals of safety, the theory of the wind window and the main principles of kite control, as well as practical exercises interspersed with it. Upon their completion, the students pretty well can control the kite and slide on the board on the waves. There are group and individual forms of training. They are conducted in English or Russian by experienced athletes who know all the nuances of kiting. For beginners with their equipment 25% discount is provided. There are also speed-intensive programs, after the passage of which amateurs after five lessons become pros.
We love kitesurfing in Montenegro because this country has excellent conditions for it.
Arriving by plane to Tivat or Podgorica, from where the local resorts begin, does not require a visa. You can get to the famous sea town of Ulcinj from here by bus or book an individual transfer. The conditions here for fans of the wave and the kite are democratic, prices are available, the local people are kind and friendly. The large beach is ideal for kitesurfing: a clean sandy bottom smoothly goes under the water and is visible to a depth of 35 meters. No plants and sea urchins threaten extremes, sun shines most of the year, and the wind blows regularly from 1p.m. o'clock to 6 or 7 in the evening, promising an exciting pastime.
For questions and requests for the organization of outdoor activities, please contact us via the form below.